Resources
Department Shop Facilities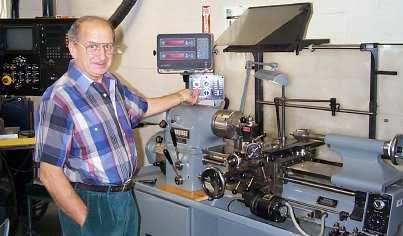 Machinist John Gresty in the Department's machine shop
Mechanical  shop facilities are maintained and managed within the Sydney W. Barnes Research Laboratory of the Department of Physics and Astronomy. The shop is capable of prototyping and manufacturing a wide variety of devices in support of the Department's research and teaching efforts. In the past, the Barnes Lab has constructed detectors, control electronics, and other equipment for use at major national and international research centers such as Fermilab, KEK, SSC, CERN, SLAC. The Shop has simultaneously provided precision experimental components and systems for University based laboratories within the Department and for other research programs though out the University.
The Mechanical Shop is staffed by an expert machinist and a professional mechanical designer. Fabrication capabilities include a fully computerized milling machine (CNC), a variety of high-precision mills and lathes, soldering and welding facilities, advanced sheet metal working equipment and diamond saws. Included within the Mechanical Shop is a comprehensive Student Shop located in Bausch and Lomb Hall. In addition to advanced design and construction capabilities, the Mechanical Shop offers training courses for students at all levels who are involved in the mechanical arts of experimental research.
In addition to the primary goal of supporting the teaching and research activities within the Department and its collaborations, the Mechanical Shop often takes on work for researchers in other academic units within the University.
For further information, please contact:
Machinist: John Gresty, (585) 275-3386, gresty@pas.rochester.edu
Administration: Sondra L. Anderson, (585) 275-4352, sondra@pas.rochester.edu
Faculty liaison: Prof. Dan Watson, (585) 275-4344, dmw@pas.rochester.edu