---
General Features
of Mars

---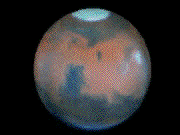 Mars has a rotational period of 24 hours and 37 minutes, a period for revolution about the sun of 687 days, and a diameter of 6800 km (about half that of Earth). Its average density is 3.9 g/cc, which is considerably less than the 5.2-5.5 g/cc characteristic of Mercury, Venus, and the Earth. This density gives it a mass about 11% of that for Earth. It is most easily observed from Earth when it is at opposition. Even then, it was difficult in the past to observe from Earth because of turbulence in the Martian atmosphere and ours.
The animation to the right shows a sequence of Hubble Space Telescope images of the Martian surface. The image at the bottom of the page shows several still views from the same source.
Earth based observations concluded that Mars
Has a reddish hue over 3/5 of the planet, which we now known to be caused by red dust and rocks on the surface of the planet.

Has polar ice caps waxing and waning with the seasons that we now know to be composed both of dry ice (frozen carbon dioxide) and water ice.

Has surface markings that some originally thought looked like "canals" from Earth. These are now known to be features like the edges of mountain ranges.

In 1877 Schiaparelli saw what he thought were canals. People soon believed these canals were evidence for intelligent life on mars, where the inhabitants were irrigating water from the poles to the lower lattitudes. Percy Lowell formed the Lowell observatory to look at Mars and he mapped what he thought were irrigation canals and people believed mars was inhabited by intelligent life.

Edgar Burroughs wrote novels about life on Mars between 1912 and 1934. This and the 1895 novel by H.G. Wells "The War of the Worlds" let to the 1938 Orson Welles famous radio adaptation of the "War of the Worlds." A relaxing big band dance music show was "interrupted" to bring a series of "special reports" of a UFO detection and space ship landing in New Jersey from Mars. Many people believed the show was a news report rather than a fictional drama. You can hear the broadcast here .

Has areas of changing color that were once thought to correspond to vegetation. We now believe these regions of changing color to be due to blowing sand, not vegetation.

Has an atmosphere with clouds.
Increased understanding of Mars had to await the results of space probes, beginning with Mariner 4, 6, 7, and 9 in the period 1965-1971, and the Viking 1 and 2 probes in 1976. Most recently we have the Mars Rovers (latest updates are here ).