Neutrino and Antineutrino Quasielastic Experiments

Deuterium-Hydrogen Experiments (first paper on D2 and H2 experiments).

2) Duality Constrained Parameterization of Vector and Axial Nucleon Form Factors.
A. Bodek, S. Avvakumov, R. Bradford, H. Budd (Rochester U.) . Aug 2007. 4pp.
e-Print: arXiv:0708.1946 [hep-ex]
References | LaTeX(US) | LaTeX(EU) | Harvmac | BibTeX | Cited 2 times
Abstract and Postscript and PDF from arXiv.org (mirrors: au br cn de es fr il in it jp kr ru tw uk za aps lanl )
Bookmarkable link to this information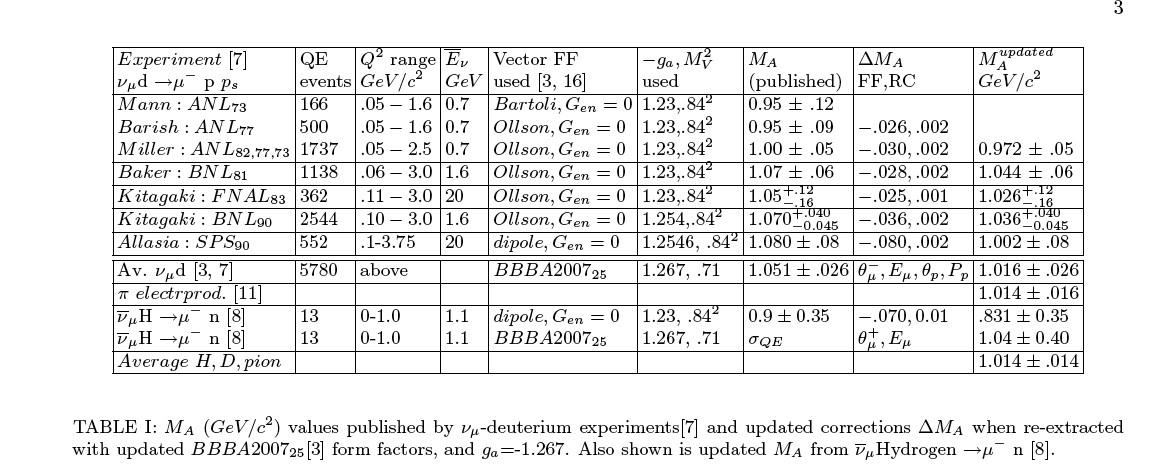 Experiments with heavier targets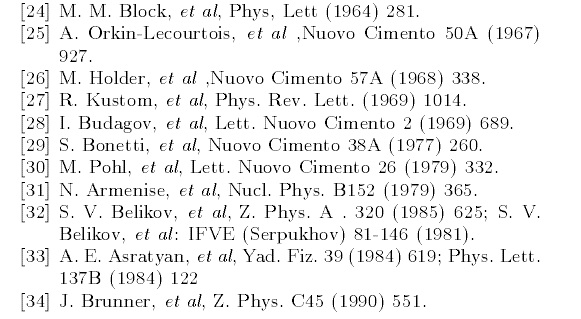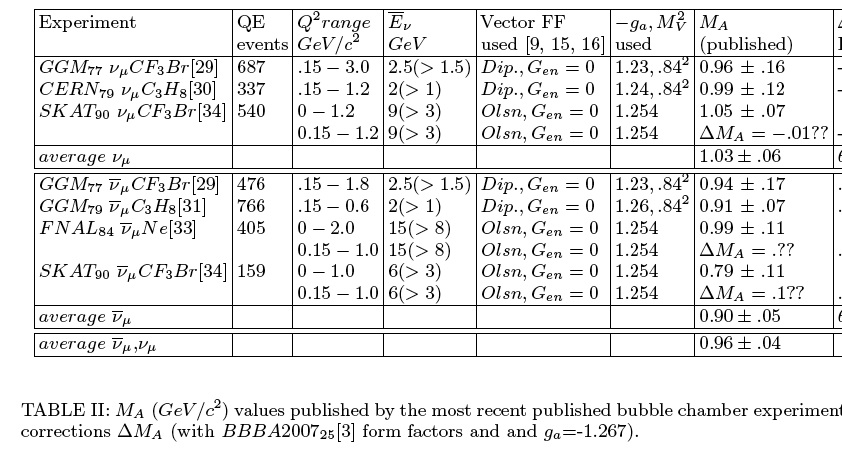 References 29,30,31,33,34 are for the second paper on heavy targets.





1. Bonetti 77 Both neutrino and

antineutrino

Heavy Freon CF3Br CERN GGM 77 (ref 29)

S. Bonetti et al. Nuovo Cimento 38A (1977) 260

Paper pdf file: http://www.pas.rochester.edu/~bodek/FF/MAexperiments/Bonetti77nu-nubar29paper.pdf

spreadsheet: http://www.pas.rochester.edu/~bodek/FF/MAexperiments/Bonetti77-29MA.xls

Neutrino energy used, Enu> 1.5 GeV. Mean neutrino energy about 2.5 GeV.
muon longitudinal momentum greater than 0.6 GeV
697 neutrino events, 476 antineutrino events.
Dipole form factors, Ge=0, MV=0.84, ga=-1.23. Ma neutrino = 0.96+-0.16, Ma numbar = 0.94+-0.17
Fit range in Q2 , greater than 1.5 and up to max (3.0) for neutrino, and up to max (1.8) for nubar
(all data in table used).

For neutrino use total event energy (did not add binding energy) so this needs to be added
For antineutrino, used muon energy and angle assuming free nucleons. Did not correct
for missing energy (shown to be 6% on average).

Data was not corrected for Fermi motion or Pauli. The model included Fermi motion
and Paul, so we should add Pauli for heavy Freon (CF3Br) in the model. (see plot)
For re-analyis
0. They use all of the Q2 bins , Energy cut is 1.5 GeV.
1. Need to Apply Pauli corrections to model for Freon)


2. Use BBBA2003 form factors and updated ga (

They use DIPOLE Form factors with Gen=0, MV=0.84, ga(0)=-1.23)


3. Apply radiative corrections (small)




4. reapply nuclear binding corrections with Eb=~20 GeV to the total energy (use proper Eb for Freon)





Tables below extracted from spreadsheet





Q2low Q2 high nu cross error




GeV/C2







0 0.25 458 48




0.25 0.5 432 41.5




0.5 0.75 261 32




0.75 1.0 145 24




1.0 1.25 104 25




1.25 1.5 81 18.5




1.5 1.75 74 12




1.75 2.0 51 13.5




2 2.25 46 11.5




2.25 2.5 20 9




2.5 2.75 12 6.5




2.75 3 9 6






Q2low Q2 high nubar cross error




GeV/C2







0 0.25 356 29




0.25 0.5 208 23




0.5 0.75 92 15.5




0.75 1 30 12




1 1.25 28 10




1.25 1.5 12 7




1.5 1.75 10 7.5




1.75 2 0 5







Energy Log10 log10




GeVC nubar nu




flux flux




1 -3.137931034 -2.980295567
1.5 -2.857142857 -2.674876847
2 -2.866995074 -2.660098522
2.5 -3.049261084 -2.763546798
3 -3.325123153 -2.985221675
3.5 -3.596059113 -2.871921182
4 -3.906403941 -3.517241379
4.5 -4.24137931 -3.798029557
5 -4.561576355 -4.078817734
5.5 -4.886699507 -4.305418719
6 -5.142857143 -4.532019704
6.5 -5.320197044 -4.645320197
7 -5.438423645 -4.709359606
7.5 -5.541871921 -3.857142857
8 -5.640394089 -3.97044335
8.5 -5.719211823 -4.827586207
9 -5.827586207 -4.891625616
9.5 -5.935960591 -4.950738916
10 -6.049261084 -5.014778325
10.5 -6.177339901 -4.566502463
11 -6.325123153 -5.172413793
11.5 -6.492610837 -5.256157635
12 -6.694581281 -5.359605911
12.5 -6.935960591 -5.088669951
13 -7.192118227 -5.586206897
13.5 -7.497536946 -5.738916256
14 -7.773399015 -5.857142857
14.5 0 -6.034482759
15 0 -6.221674877
15.5 0 -6.45320197
16 0 -6.645320197
16.5 0 -6.9408867
17 0 -7.433497537








2. Armenise 79 Propane C3H8 and some Freon CF3Br (Average is 87% C3H8 and 13% CF3Br)
Antinuetrino CERN GGM 79 (ref 31)



Paper pdf file: http://www.pas.rochester.edu/~bodek/FF/MAexperiments/Armenise79.pdf



N. Armensie et al Nucl Phys. B152 (1979) 365





spreadsheet:

http://www.pas.rochester.edu/~bodek/FF/MAexperiments/Armenise79papernubar.xls
Antineutrino energy greater than 1 GeV (mean about 2 GeV). Required muon longitudinal momentum to be greater than 0.6 GeV
C3H8 24 bound proton and 8 free protons 25% free protons, 75% bound protons
766 events, 837 corrected events free kinematics


Fit region: Q2 greater than 0.15 and less than 0.6 (did not use all the points)


in the table). Dipole ga=-1.26 Mv=0.84 --- Ma=0.91+-0.07
Model was corrected for fermi motion and Pauli and resolution smeaing. Data is not corrected for Fermi motion, or Pauli, or resolution.
used free kinematics to calculate nubar energy

For re-analyis
0. They use only part of the Q2 bins (0.15 to 0.6), Energy cut is 1 GeV.
1. Need to Apply Pauli corrections to model for mostly carbon)


2. Use BBBA2003 form factors and updated ga (

They use DIPOLE Form factors with Gen=0, MV=0.84, ga(0)=1.26)


3. Apply radiative corrections (small)




4. reapply nuclear binding corrections with Eb=~20 GeV to the total energy (use proper Eb average for this light mixture)








Q2low Q2 high nubar error




GeV/C2

Events error




per 0.05



0 0.05 102.6644463 10.24146545
0.05 0.1 97.33555371 10.53288926
0.1 0.15 102.6644463 10.40799334
0.15 0.2 89.42547877 9.825145712
0.2 0.25 75.60366361 8.909242298
0.25 0.3 68.02664446 8.659450458
0.3 0.4 45.37885096 4.954204829
0.4 0.5 27.39383847 3.955037469
0.5 0.6 18.15154038 3.538717735
0.6 0.8 12.32306411 2.830974188
0.8 1 6.161532057 1.415487094
1 1.5 2.081598668 0.791007494
1.5 2 0.832639467 0.707743547

nubar
Energy Log10 flux
GeV
1 -3.068090788
1.25 -2.983978638
1.5 -2.927903872
1.75 -2.891855808
2 -2.939919893
2.25 -3.028037383
2.5 -3.140186916
2.75 -3.26435247
3 -3.400534045
3.25 -3.520694259
3.5 -3.632843792
3.75 -3.748998665
4 -3.849132176
4.25 -3.965287049
4.5 -4.013351135
4.75 -4.185580774
5 -4.313751669
5.25 -4.441922563
5.5 -4.570093458
5.75 -4.710280374
6 -4.846461949
6.25 -4.970627503
6.5 -5.082777036
6.75 -5.190921228
7 -5.279038718
7.25 -5.367156208
7.5 -5.431241656
7.75 -5.499332443
8 -5.55941255
8.25 -5.607476636
8.5 -5.64753004
8.75 -5.687583445
9 -5.715620828
9.25 -5.759679573
9.5 -6.016021362
9.75 -5.791722296
10 -5.847797063
10.25 -5.899866489
10.5 -5.955941255




3. Astratyan 84 FNAL 15 foot, Neon-Hydrogen Antineutrino FNAL 84 (ref 33)



Paper pdf file: http://www.pas.rochester.edu/~bodek/FF/MAexperiments/Astatyan84-nubarNeFNAL.pdf

A. E. Asratyan et al. Phys. Lett. 137 B (1964) 122



spreadsheet:

http://www.pas.rochester.edu/~bodek/FF/MAexperiments/FNAL-neon-Astatyan83-nubar.xls

Anti-Neutrino energy greater than 8 GeV (mean about 15 GeV)
15 foot Bubble Chamber. A. E. Asratyan et al Phys. Lett. 137B (1984) 122
405 obvserved events on Neon. Pauli correction applied in the theory
Ma= 0.99+-0.11 corrected dN/dQ2 They do not corrected for Pauli - Neon target
fit region all the data Q2 = 0 to 2.0 ( we should change to Q2 gt. 0.15 and calculate DeltaM in our analysis,
we need to apply Pauli correction).
I guess ga=1.26, and Ollson Form factors (since this is what SKAT used)
(but could be dipole. EMAIL SENT, BUT NO ANSWER SO FAR)
Neon FNAL nubar Asratyan84 33rd referece in paper


For re-analysis:
0. Energy cut is 8 GeV. - They use all the data in the Q2 regin'
Neet to apply Pauli correction for Neon to Model
1. remove first bin in Q2 Calculate Delta M2 for this removal of first bin.


2. Use BBBA2003 form factors and updated ga (

They use Ollson Form factors with Gen=0. , ga(0)=1.26


3. Apply radiative corrections (small)




4. reapply nuclear binding corrections with Eb=20 MeV (they most likely use free kineatmics).








Q2low Q2 high nubar cross error




GeV/C2



0 0.1 95.36 12.58
0.1 0.2 104.30 12.25
0.2 0.3 91.06 11.92
0.3 0.4 67.22 9.44
0.4 0.5 57.62 10.26
0.5 0.6 43.38 8.77
0.6 0.7 27.48 6.29
0.7 0.8 23.18 4.80
0.8 1 21.52 3.64
1 1.2 13.25 3.31
1.2 1.4 15.23 3.31
1.4 1.6 8.61 1.99
1.6 1.8 8.28 2.15
1.8 2 2.65 1.82




Energy Log10




GeVC nubar




flux






2.5 7.768764633
5 8.363724005
7.5 8.448009916
10 8.624294174
12.5 8.569205344
15 8.514667401
17.5 8.439195703
20 8.350502686
22.5 8.25464812
25 8.158793555
27.5 8.076711197
30 7.967084424
32.5 7.843685443
35 7.713675802
37.5 7.604599917
40 7.488362485
42.5 7.330808429
45 7.214570996
47.5 7.104944223
50 7.029472524
52.5 6.92039664
55 6.865307809
57.5 6.755681036
60 6.687370886
62.5 6.605288528
65 6.536978378
67.5 6.475278887
70 6.400358077
72.5 6.338658587
75 6.290731304
77.5 6.208648946
80 6.146949456
82.5 6.078639306
85 6.016939815
87.5 5.955240325
90 5.893540835
92.5 5.825230684
95 5.763531194
97.5 5.708993252
100 5.650048203


4. SKAT (ref 34) both

Neutrino

and Antineutrino on Propane Serpukhov 90 (CF3Br)

Paper pdf file: http://www.pas.rochester.edu/~bodek/FF/MAexperiments/SkatZphyC.pdf

J. Brunner, et al. Z. Phys. C45 (1990) 551





spreadsheet:

http://www.pas.rochester.edu/~bodek/FF/MAexperiments/brunner90SKAT-nu-nubar.xls

Cut on neutrino and antineutrino energy is 3 GeV. Mean neutrino energy is 9 and mean
antineutrino energy is 6 GeV.
540 neutrino events, 159 antineutrino events.
They use Ollson Form factors with Gen=0. , ga(0)=1.254
Data corrected for Pauli principle and Fermi motion.
For neutrino Evis =Emu+Eproton+8 MeV
For antineutrino Evis from Muon energy and angle, assuming Eb=0.
Fit data to free form factors. From shape get
Ma=1.05+-0.05 for neutrino
Ma=0.79+-0.11 for antineutrino

For re-analysis:
0. Energy cut is 3 GeV.
1. remove first bin in Q2 (they applied Pauli corrections already). - Do not apply Pauli to model.
Calculate Delta M2 for this removal of first bin.


2. Use BBBA2003 form factors and updated ga (

They use Ollson Form factors with Gen=0. , ga(0)=1.254


3. Apply radiative corrections (small)




4. reapply nuclear binding corrections with Eb=20 MeV (they use Eb=8 MeV for neutrino and Eb=0 for antineutrino).









Q2low Q2 high nu cross error




GeV/C2







0.0 0.1 2.30 0.45 Sensitive to Pauli Corrections (data corrected for Pauli)




0.1 0.2 1.85 0.26




0.2 0.3 1.16 0.17




0.3 0.4 0.85 0.13




0.4 0.5 0.75 0.14




0.5 0.7 0.54 0.10




0.7 0.9 0.32 0.09




0.9 1.5 0.25 0.10






Q2low Q2 high nubar cross error




GeV/C2










0 0.1 1.00 0.27 sensitive to Pauli correction (data corrected for Pauli)




0.1 0.2 1.35 53




0.2 0.3 0.78 34




0.3 0.4 0.70 0.17




0.4 0.6 0.44 0.11




0.6 0.8 0.25 0.08




0.8 1.2 0.07 0.07






Energy Log10 log10




GeVC nubar nu




flux flux




2 -4.833398361 -4.487709715
3 -4.203667577 -3.700351151
4 -3.838470542 -3.649629341
5 -4.084276239 -3.788529067
6 -4.241904019 -4.02106906
7 -4.291845494 -4.053062817
8 -4.38002341 -4.033554428
9 -4.461958642 -4.084276239
10 -4.600858369 -4.17869684
11 -4.758486149 -4.285602809
12 -4.941084666 -4.500195084
13 -5.148653921 -4.789699571
14 -5.39758096 -5.023019899
15 -5.614514241 -5.218103785
16 -5.809598127 -5.368708545
17 -5.999219664 -5.488880218
18 -6.124853687 -5.552087398
19 -6.263753414 -5.608271557
20 -6.358174015 -5.646507998
21 -6.389387437 -5.66367538
22 -6.419040187 -5.66367538
23 -6.471322669 -5.66367538
24 -6.502536091 -5.66367538
25 -6.575887632 -5.642606321
26 -6.607881389 -5.68474444
27 -6.66016387 -5.7058135
28 -6.743659774 -6.288724151
29 -6.795942255 -5.779165041
30 -6.922356613 -5.815840812
31 -7.026921576 -5.894654702
32 -7.142411237 -5.946937183
33 -7.300039017 -6.030433086
34 -7.414748342 -6.114709325
35 -7.572376122 -6.188060866
36 -7.719079204 -6.292625829
37 -7.865782286 -6.376902068
38 -8.044479126 -6.429184549
39 -8.22239563 -6.533749512
40 -8.453374951 -6.618025751

5. Pohl 79

neutrino

light (Propane-C3H8 Freon -

CF3Br

mixture

Average is 87% C3H8 and 13% CF3Br

)
CERN 79 (ref 30) (Experiment same as Bonetti 77.


Paper pdf file: http://www.pas.rochester.edu/~bodek/FF/MAexperiments/pohl79paper.pdf



M Pohl et al. Lett. Nuovo Cimento 26 (1979) 332





spreadsheet:

http://www.pas.rochester.edu/~bodek/FF/MAexperiments/pohl79spreadheet.xls

Flux same as Bonetti 77.
They use neutrino energy greater than 1 GeV, Mean neutrino energy 2 GeV.
556 events which become 622+-37 after corrections.
Pauli corrections were not applied to the data, they were applied to
the model. (found to be 35%).
ga(0) = -1.24, Fm(0)=3.71. and Dipole form factors with Gen=0. MV=0.84 ,
with shape analysis only ---> Ma=0.99 +-0.12
They fit all the data (Q2 greater than 0.15 and less than 1.8)

For reanalysis:

0. They use all Q2 bins (0.15 to 1.8) Energy cut is 1 GeV.
1. Apply Pauli corrections to model


2. Use BBBA2003 form factors and updated ga (

They use DIPOLE Form factors with Gen=0, MV=0.84, ga(0)=1.24)


3. Apply radiative corrections (small)


4. reapply nuclear binding corrections with Eb=~20 GeV to the total energy use proper
average for this light mixture)






Q2low Q2 high nu cross error


GeV/C2

0.1 0.2 1.10 0.16 Sensitive to Pauli Corrections (these were not applied to these data, but applied to the model)
0.2 0.3 1.18 0.17
0.3 0.4 0.89 0.15
0.4 0.5 0.94 0.15
0.5 0.7 0.58 0.07
0.7 1 0.28 0.05
1 1.5 0.15 0.03