Patrick Oakes Awarded Faculty Early Career Development (CAREER) award
The National Science Foundation (NSF) has awarded Patrick Oakes, an assistant professor in the Department of Physics and Astronomy, a Faculty Early Career Development (CAREER) award.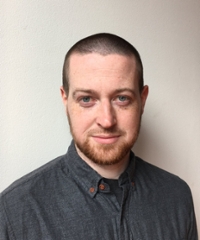 The CAREER award is one of the NSF's most prestigious awards in support of early-career faculty who have the potential to serve as academic role models in research and education and to lead advances in the mission of their department or organization. The award comes with a federal grant to support his research and education activities.
Dr. Oakes, who holds a secondary appointment in the Department of Biology, researches how cells use mechanical signals to regulate their biological functions. His lab combines approaches from physics and engineering to study biological systems. He is particularly interested in how cells respond to and generate forces, such as those that allow them migrate and adhere to each other. He won his CAREER award for his proposal to study the protein septin, and its role in regulating these types of mechanical interactions.
"Cells use a network of different proteins called the cytoskeleton to change their shape," explained Dr. Oakes. "The cytoskeleton is of particular interest from a physics perspective because it is a dynamic non-equilibrium material that consumes energy. This sets it apart from simpler traditional materials which have static material properties. Within the cytoskeleton septins create distinct architectures of filaments, localize to contractile zones, and appear to recognize regions of curvature. Our goal is to investigate septin's role in organizing the cytoskeletal network and determine if they are important for converting mechanical signals into chemical signals, a process known as mechanotransduction. This work will provide important insights into the biological functions of septins, and potentially reveal novel properties of these active protein networks."
Dr. Oakes earned his PhD from Brown University in 2009. He was a postdoctoral scholar at the University of Chicago before joining the University of Rochester as an Assistant Professor in 2016.
Relevant Links:
http://oakeslab.pas.rochester.edu/