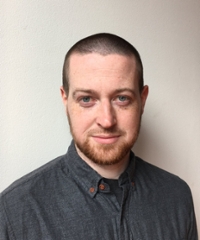 ---
Biography
Patrick Oakes joined the University of Rochester Department of Physics and Astronomy as an Assistant Professor in 2016. He received his BSc in Physics (2004) from Boston College. He did his graduate work at Brown University where he earned both a MSc (2005) and a PhD (2009) in physics. He continued his training as a postdoctoral scholar at the University of Chicago as part of their Institute for Biophysical Dynamics, the James Franck Institute and the Department of Physics. 
Research Overview
Professor Oakes's research uses high resolution quantitative microscopy and bioengineering approaches to probe mechanical interactions in cellular processes. His research focuses on two primary aims: (1) The role of mechanical interactions in regulating biological processes. We investigate how cells change their shape, adhere to each other and move. (2) Material properties of protein networks. We study how the organization and architecture of protein networks influences their macroscopic material properties. For more details please see the lab website. 
Links to his publications are available via his Google Scholar Profile.