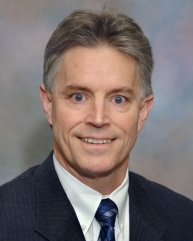 Dan M. Watson
Professor of Physics and Astronomy
LLE Senior Scientist
418 Bausch & Lomb Hall
(585) 275-8576
dmw@pas.rochester.edu
---
Biography
He received his bachelor's degree in Physics from Revelle College, University of California, San Diego, in 1976. Having minored in Philosophy, he maintains his interest in classical and Continental philosophy. He earned his MA (1978) and PhD (1983) at the University of California, Berkeley; his thesis research was supervised by Professor Charles H. Townes. He held postdoctoral positions at the California Institute of Technology, before joining the University faculty in 1988. He has served as the Department's Associate Chair (2005-2006, 2010-2013) and Chair (2013- ).
Research Overview
Dan Watson is an astrophysicist who studies planet and star formation, through observations and theoretical modelling of the evolution of protoplanetary disks and protostellar envelopes. He has also developed astronomical spectrographs and infrared detector arrays for airborne and satellite observatories.
For further details go to Professor Watson's personal website. Links to his publications can accessed via his Google Scholar Profile.
Research Interests
astrophysics
observational astronomy