News
SPS Tutoring has started!
Our Technical Workshop is on Sunday October 15th, 2017 in Bauch and Lomb 208!
Board Game Night is on Friday October 20th, 2017 hosted by the POA!
Spooky Science Saturday is on Saturday October 28th, 2017 in the Rettner Atrium!
The World of Physics
About Us
The SPS exists to help students transform themselves into contributing members of the professional community. Course work develops only one range of skills. Other skills needed to flourish professionally include effective communication and personal interactions, leadership experience, establishing a personal network of contacts, presenting scholarly work in professional meetings and journals, and outreach services to the campus and local communities
Locally, regionally, nationally, and internationally, the SPS offers the opportunity for these important enrichments to the student's experience.
Professional Developement
Technical Workshop 10/15/2017
Research Symposium
Luncheon with Professors
Summer Internship Workshops
Courses
Free tutoring for introductory physics & astronomy courses
Including the 113, 120, 140 series and others!
Outreach
Spooky Science Saturday 10/28/2017
Science Fair
The Physics Pentathalon
Social
Game night 10/20/2017
Movie nights
Mees Trips
Photon Cup
And many more!
E-Board Members
Jack Piotrowski

President. Junior. Studies Physics & Astronomy and Optical Engineering.

Samantha Tetef

Vice President. Junior. Runs for the varsity cross country and track & field teams.

Jeremy Hartse

Business Manager. Junior. Runs for the varsity track team.

Natalie Allen

Secretary. Sophomore. Studies Physics & Astronomy.

Adina Ripin

Outreach Chair. Sophomore. Studies Physics and Mathematics.

Andrew Van Avery

Social Chair. Junior. Plays for the varsity football team.
Tutoring
We offer free tutoring every Monday to Thursday from 7 to 9 PM at the POA Library (3rd Floor of Bausch & Lomb). Will be updated at the beginning of the year!
Monday
Fiona Nichols-Fleming
Leesa Brown
Bo Peng
Tuesday
Ryan Rubenzahl
Jack Piotrowski
Jeremy Staffa
Wednesday
Jeremy Hartse
Nick Romano
Jack Piotrowski
Thursday
Yue Wang
Mattison Flakus
Tri Nguyen
Outreach
The Society of Physics Students at the University of Rochester seeks to promote interest and curiosity in physics within the University of Rochester, and in the greater Rochester community. We host a variety of events throughout the year, and visit local schools to engage kids in hands on activities.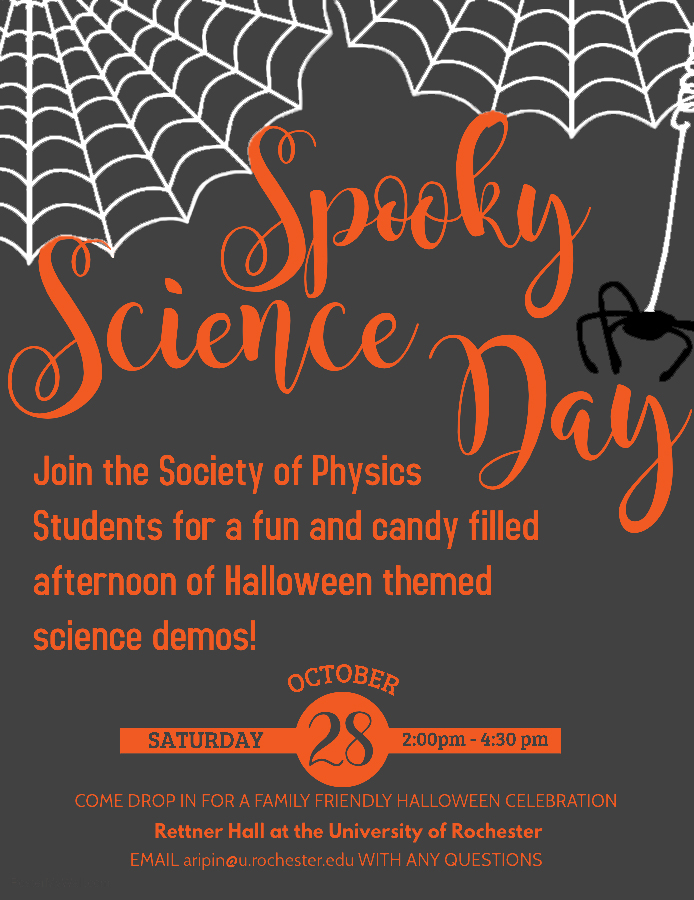 Physics Pentathalon
SPS will be hosting the Physics Pentathalon -- an event aimed at providing high school students with fun yet challenging tasks outside the classroom setting.
Students will be able to compete in five different activities to test their scientific method and problem solving skills. Date TBD.
Sigma Pi Sigma
Sigma Pi Sigma exists to honor outstanding scholarship in physics, to encourage interest in physics among students at all levels to promote an attitude of service and to provide a fellowship of persons who have excelled in physics. Election is a lifelong membership and includes a once-year complimentary membership in the Society of Physics Students (SPS).
Click here to go to the Sigma Pi Sigma website
Contact Us
sps@pas.rochester.edu