Spotlight:
Mapping the optimal route between two quantum states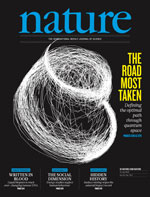 As a quantum state collapses from a quantum superposition to a classical state or a different superposition, it will follow a path known as a quantum trajectory. For each start and end state there is an optimal or "most likely" path, but it is not as easy to predict the path or track it experimentally as a straight-line between two points would be in our everyday, classical world.
In a new paper featured this week on the cover of Nature, scientists from the University of Rochester, University of California at Berkeley and Washington University in St. Louis have shown that it is possible to track these quantum trajectories and compare them to a recently developed theory for predicting the most likely path a system will take between two states.
Andrew N. Jordan, professor of physics at the University of Rochester and one of the authors of the paper, and his group had developed this new theory in an earlier paper. The results published this week show good agreement between theory and experiment.