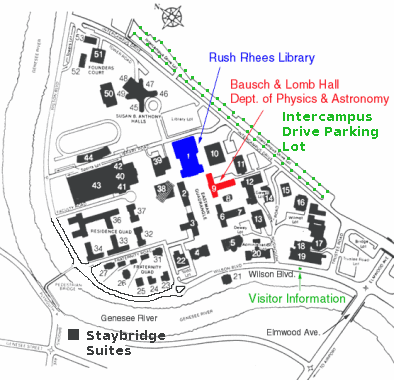 Location
The UR Physics & Astronomy department is in Bausch & Lomb Hall ("B&L") on the quad of the UR River Campus.
The Physics & Astronomy dept. front office is 206 B&L.
The UR astrophysics group is located on the 4th floor of B&L.
Physics & Astronomy department colloquia are usually held in 106 B&L.
UR astronomy seminars are usually held in 372 B&L.

Map of River Campus w/ Bausch & Lomb Hall
Wikimapia map of Bausch & Lomb Hall and UR River Campus
University of Rochester maps - click on "River Campus"


Transportation
There are a few options for transport in the Rochester area -- among them:
(1) the hotels often have shuttles that go to the airport and campus,
(2) taxi (Rochester Airport Taxi & Limo; 585-247-7678),
(3) your host.

If you plan on driving to campus (not really recommended), tell us ahead of time so that we can arrange for a 1-day parking pass. In that case, you would stop at the parking booth at the south entrance to campus on Wilson Blvd and pick up your parking permit.


Airport
UR is conveniently served by Greater Rochester Int'l Airport (ROC). ROC is about ~2 miles W of the University of Rochester, and ~4 miles SW of downtown Rochester (GoogleMap).
Accommodation
For visiting speakers, we can book your accomodation and bill the room to the department.

A new hotel lies on the side of the Genesse River opposite the University of Rochester River Campus: Staybridge Suites. Its a 5-minute walk from the UR campus (via a walkway over the Genesee River), and a 5-minute cab ride from the airport. Here's a Google map of its location. Staybridge Suites is particular convenient if (1) the weather is nice enough for walking outside to the University, and (2) you plan on arriving late enough the night before such that finding dinner is not an issue (despite its proximity to UR, there is a lack of nice restaurants close to the hotel, however there are some a short cab ride north in the Corn Hill Landing area). If the weather is particular cold, or you are arriving early enough that you would want to find a restaurant, you may want to consider finding another hotel slightly further from the university.

Wikimapia map centered on Staybridge Suites

Mapquest directions & map: Greater Rochester Int'l Airport (ROC) to Staybridge Suites (opposite the Genesee River from University of Rochester River Campus)

La Quinta Inn, E. Henrietta Rd. -- Rochester NY (Directions). La Quinta is ~1.5 mi from the University of Rochester, and has a shuttle service to the University.

There are numerous other hotels in the Henrietta area, to the SE of the University of Rochester. These are especially convenient if you are driving to UR using the NY turnpike I-90 or I-390.

There is also a Fairfield Inn and Holiday Inn right next to the airport -- which again is only a couple of miles from the UR campus.



back